I did this a very long time ago, back when I was a new blogger with one follower (my mum) and I had very different fashion and blog tastes. Here's currently who is inspiring me in the world of fashion blogs...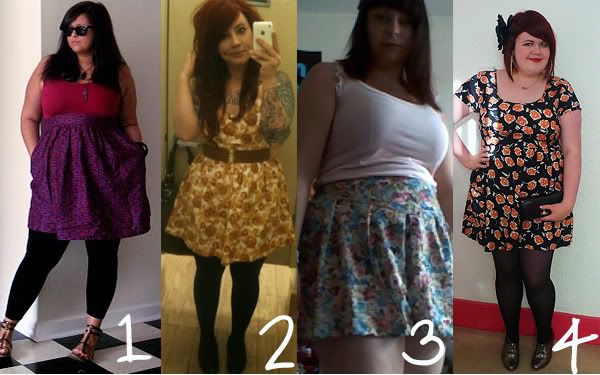 1) The gorgeous Alexandra of
Alex's Wonderland
. She is one of the first blogs I started following, and her fashion sense is impeccable with cute floaty dresses and gladiator sandals, waistbelts and wedges and generally cute mismatching accessories. Not only that, she's a brilliant cook, too (I've made those ice-cream cupcakes for myself and they are
amazing
)
2) The edgy-cute girly girl Kaelah of
little chief honeybee
has an adorable, eclectic style and the most brilliant hair. Her staples are definitely cute dresses and hairbows, and accessorizes with her Georgia, the sweetest bulldog. I took an ad out on her blog not long ago, she's very popular. She also makes hairbows and things for her etsy shop and in light of her recent problems (click through to her blog to read) I'm sure she'd love you to buy some.
3) Fellow student Vic of
pretty bows and borrowing grannies clothes
is probably one of my closer blog friends. She has a lovely assymetric fringe haircut which suits her amazingly and brilliant taste in shorts that I wish I were brave enough to wear. Her style is all about the bows, and trust me you can probably find one in almost every outfit she posts.
4) Punk-rock cute Carla of
MessyCarla: A Fashion Blog in Size 16
shows perfectly you don't have to be tiny to rock the same looks as the skinny girls, and in fact look three times better! She has great taste in prints and patterns and always seems to be right on the pulse of the next trend while still dressing in clothes that look brilliant on her.