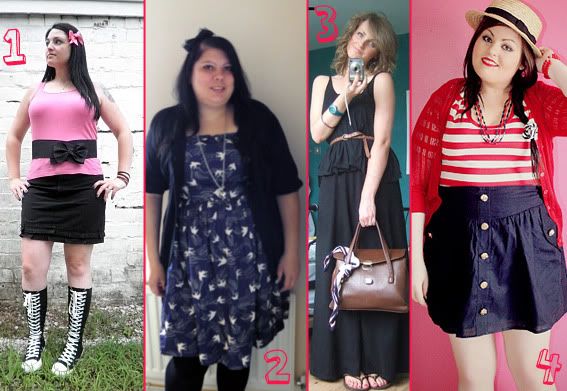 1. Thera Joyce of
Crafty Pirate
has the cutest style - what's not to love about knee-length converse and pink-and-black combos? I particularly love the black bow belt, which she made herself, very well in my opinion. Her blog is a mixture of craftiness, fashion and general cute.
2. Trisha of
MarySew
is the cutest German lady with a gorgeous fashion sense and a minor steampunk obsession, which I fully condone as an amazing (if time consuming) hobby to partake in. I particularly adore this swallow-print dress, I want it for myself!
3. Claire of
Sitting Pretty
has a wonderful, eclectic style with vintage, modern and a little bit of alteration and edginess thrown in every now and again. I only recently found her blog but I'm already hooked on her 'a week in my wardrobe' feature. I chose this maxi dress outfit as it's something I'd love to wear, but I just know I'd trip over the bottom of the dress, and I have a slight fear of waist belts since they are a problem area for me.
4. Dawnah(?) of
Pearls, Lace and Ruffles
makes some gorgeous outfit choices (and I am in constant envy of her legs), but I picked this as one of her more standout outfits in an overall girly wardrobe - it seems she can pull off any style with ease, which is totally unfair to the rest of us.