Welcome to another brand-new (hand drawn) feature on my blog! I simply adore dresses but recently and for the first time my attention has been waning towards cute heels and adorable flats - I've gone from owning half a dozen pairs a couple months ago and my shoe stash has at least doubled! So 3 times a month I'm going to bring you an item of entirely impractical, un-walk-in-able and just beautiful
shoes
that hopefully you're going to drool over too...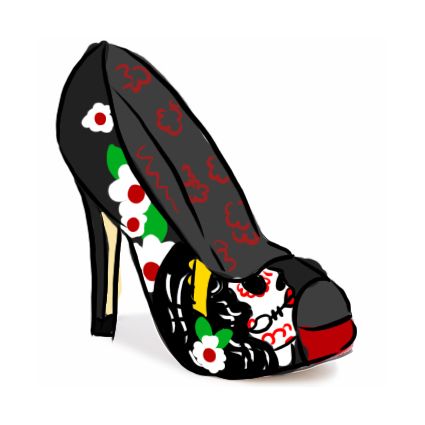 The shoe in question this time around is the gorgeous
All Hope
by
Iron Fist
, costing £58 but in my opinion it could be worth that; such pretty images and I'm a sucker for anything tattoo inspired for sure. It's a little bit more girly than the usual IF shoe design of zombies, werewolves and general gore and therefore more easily worn around those more conservative; maybe even to a casual wedding. I could just picture these with a 50's style swing dress and fake fur capelet for a classic look...