This Christmas, being a poor student, money is a real problem for me. However, I hit on a great idea and I thought I'd share it with you guys; home-made chocolates! These are super easy and cheap to make but the time and effort you put into them still makes it all worthwhile. This is the first batch I made that will soon be winging their way to the boyfriend's lovely housemates, and I'm really proud of how well they came out. I think overall per person the expenditure was about £2? Not bad. So here's what you have to do: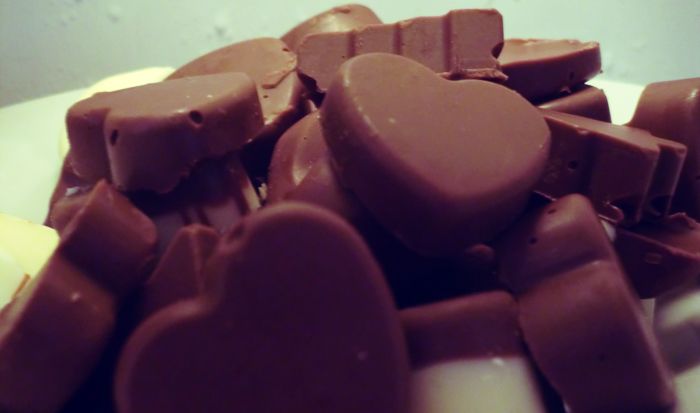 YOU WILL NEED: chocolate, silicone ice cube trays, cello bags, ribbon.
one. get yourself some chocolate! for this batch I use a BIG bar of a galaxy and two smaller lindt white chocolate/vanilla bars. You can also use other bits and bobs like honeycomb, caramel, nuts and flavourings or even odd things like cinnamon and chili! but this time I kept it simple.
two. melt your first 'layer'; I used milk on top and white on bottom so I melted the milk first and filled in half of the silicone moulds. These were then put in the freezer to set for about a half-hour. You can test how solid they are by poking it with your finger; as you're filling in the bottom layer you won't see any fingerprints.
three. repeat the process! melt the white (but be careful as white burns very easily) and pour on top of the milk chocolate in the moulds. Freeze again. If you want to do more layers you can, just follow step 2 over again.
four. pop out of the trays, stick in a little cello bag and tie with a ribbon! And you're done! Easy, right? It's a nice little gift for any chocolate lover, especially if you use fancy chocolate and cute accents. Using an icing bag to pipe designs on the top could be sweet also.