Shoe Picnic is back everyone! (well, everyone who remembers it). Who is excited? I certainly am. And this week I'm featuring a certain super-cute pair of
shoes
.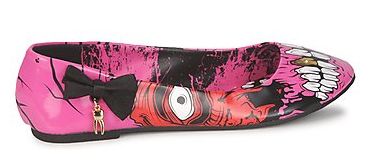 I love, love, love
Iron Fist
. It is one of my absolute favourite brands and yet all I own from it is one oversized tee-shirt; but their clothing size is a completely different topic. I adored the style but I remember a couple years ago when all they used to stock were the vertiginous (but beautiful) heels and... open toed flats. Egh.
Things have changed recently, however, and I love all these new closed-toe styles including these adorable
Pink Gold Digger
flats
. Zombies
and
pink? Yes please! I would wear these cuties to parties with a black floofy dress and mis-matchy for everyday with pastel sundresses and dark tights.