I envy those women who can stride about on
heels
all day and be perfectly polished and poised. I'm very definitely
not
one of those girls but when I do indulge in footwear that are not my usual flats or boots I make a beeline for a certain brand and I'm sure just from having a glance at the image below you know what that brand is;
They are of course part of fabulous brand
Irregular Choice
, and my first port of call for any non-flat footwear. And you can so see why; what's not to love about giant bows, quirky fabrics and that adorable perspex heel? Personally I prefer this colourway to the red (I clash a bit ;p) and that charm is just too, too sweet.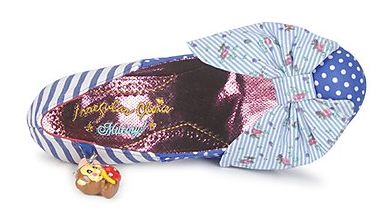 I would wear these beautiful
shoes
either full-on rockabilly with an equally bright and patterned swing dress or to a formal event with a plain dress to jazz it up a bit; in fact I have a wedding coming up in a few months for which I am shoe-less so maybe I should start saving my pennies...