Judging by the reaction over on twitter, it seems some of you guys would like to see a post all about my etchings! So here we are, a little conglomeration (such a good word) of all the tattoo-ing I've had done to myself in the past few years;
Old School Rose & Stars; right side of chest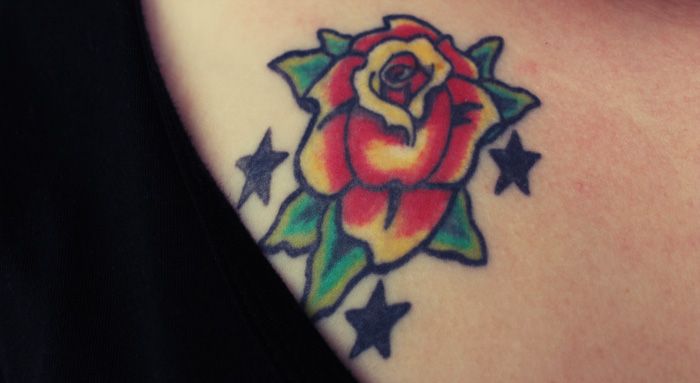 This was my first ever tattoo, which I got just after my 19th bithday. At the time I just r
eally
wanted a tattoo more than knowing what I wanted and I ended up with this old-school style rose that my boyfriend drew for me. I went to Chris at
Kustom Kulture
in my home town and he did a really good job. It took around an hour and a half to complete, with lots of shading. One day I hope to expand it into a chestpiece.
Old School Bows; back of legs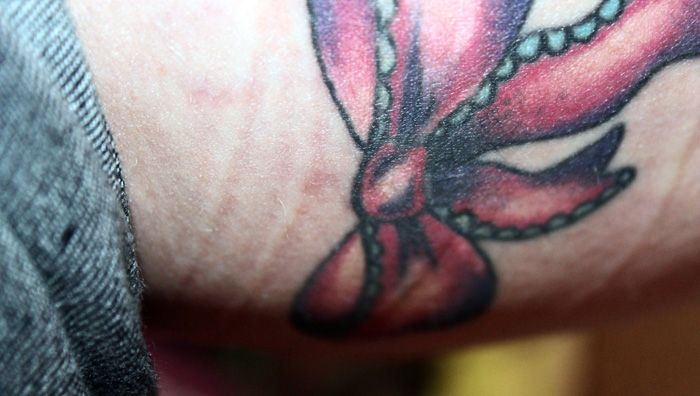 I think these are my favourite tattoos at the moment; I've had them since October and I still absolutely adore them; I didn't even go through the 'what did I do?!' phase I do with most of mine. For these I went to the lovely Kim at
Sinkin Ink
in Stoke; she's absolutely amazing and I'd completely recommend her if you're around that area - she really does amazing things with colour. These cuties took around two hours and it turns out it's really difficult to take photos of the back of your knees so please excuse the awful mirror picture!
Aperture; top of left foot

Why? For science, of course! Portal is one of my favourite games of all time and it has a great fandom too; as well as making a great tattoo. In fact, myself and the boyfriend have matching ones of these though his is bigger and a little further up his leg. I went to a tattoo shop in Newport for this one and it took 10-15 minutes.
Empire Symbol; top of right foot
The sign of the empire (and by connection, the sith) from the Star Wars universe. This one was a wee bit spur of the moment but I still love it; you can't get enough geeky tattoos and I do love how dainty this and my aperture symbol are. I went to to same place for this as the previous tattoo and it took around 10-15 minutes.
Shiny Bulbasaur; right outer thigh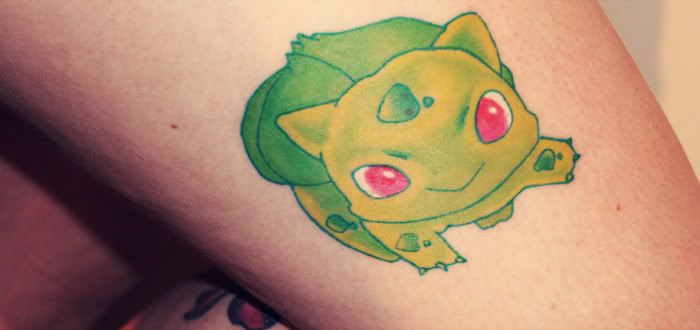 For this (in tie with the bows for my favourite), I went to Kim at Sinkin Ink again. She's by far my favourite tattooist - and most expensive, but you really get what you pay for - and I can't believe what a great job she did on the colours here. I chose him because he's my favourite pokemon, no real story. Bulba is my biggest tattoo to date (so far) and he took about two and a half hours.
For those people that want advice about tattoos I will say this; you really do pay for what you get. And it always, always helps to go to someone who specialises in the type of tattoo you want - be it japanese or old-school or text. And do remember you have to care for your tattoo pretty much the rest of your life; lots and lots of moisturiser and sun cream. I've got plenty more planned and I'll be sure to keep you up-to-date as I get them :)