I'm a huge fan of girly
shoes
; in particular the ones that are overly childish. Funnily enough, I wouldn't have been seen caught dead in anything like this when I was younger! I was very much a dungarees-and-wellies child.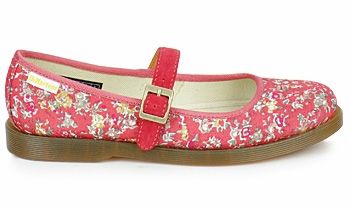 These Melody ballerinas are all the best parts of
Dr Martens
shoes minus one element I have to admit I sometimes struggle with; the sheer
chunkiness
of the soles. I have big feet as it is and I don't really want them to look wide too!
When it comes to these
flats
, however, that big sole has been downgraded to something a little more streamlined and combined with the pattern the overall girliness is very appealing; there's even something a little Cath Kidston about the floral design - it would look great on stationary as well.