I've featured TUK before in my shoe picnic posts; and when I write about a brand twice you know I love it! And these creeper sneakers are no exception to the current stellar
TUK
collection.
The thing I think I love most about these shoes is their faithful recreation of the original creeper, from the laces to the white checkered pattern on the toe, but with the trainers-style sole they would be so much more practical and comfy whilst still being fairly
smart
.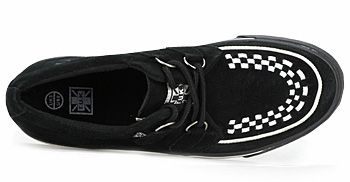 If I weren't moving home next year (where we have two white dogs that shed very heavily) I would snap these
shoes
up in a moment. If you've fallen in love too you should nab a pair whilst you can, because I can imagine these going out of stock quite quickly what with the recent creeper trend!