In terms of
shoe
brand, Buggy isn't one I'd particularly heard of before (well, hadn't heard of!) and browsing through their products it's an odd mixture of old and young-people shoes that I didn't really expect; I'm used to brands specialising towards one or the other. However, these wedges caught my eye immediately;
These are the 'Lucane by Lussi', apparently a singer, and I just absolutely fell in love with the adorable little wing detail on these
sandal
-type wedges. They remind me very much of a more subtle version of the melissa x westwood designs a little while back whilst being a great deal more casual.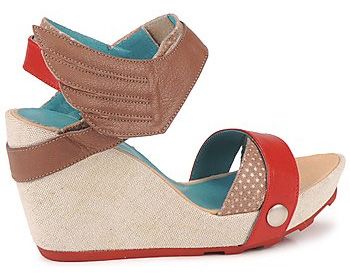 I'd wear these
Buggy
wedges with a cute knee-length summer dress or longer, as the wedge makes up for length and I tend to find shorter looks a
lot
shorter when you combine it with wedges. The polka-dot design that's incorporated would work really well with other dotty elements; in fact I have a cardigan that matches it pretty well in my wardrobe right now.