A few days ago myself and my mum took a trip up to Cribbs Causeway in Bristol to take a look around and have a bit of a potter, but mostly to have a look around the new (to me) Lush shop! I was far too excited about it, it's definitely one of my favourite shops and it's always a pain to travel all the way into the centre of Bristol every time I want to visit. Combine that with the fact my parents gave me a £30 Lush voucher for my good results and I was there like a shot. Here's my purchases for a grand total of £31.50 and my initial thoughts;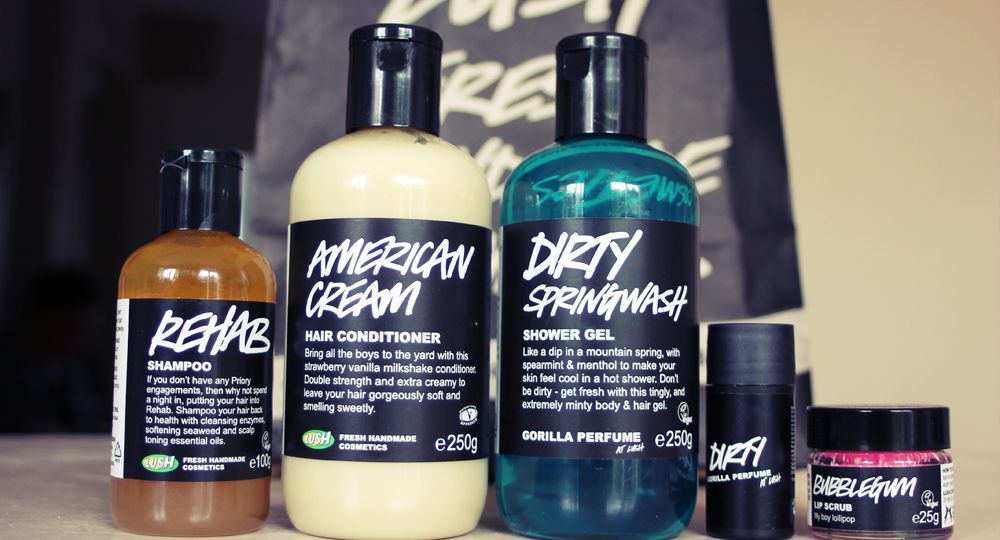 Rehab Shampoo 100g //
my hair is pretty dry at the moment due to having the dry it for work at 6am, even though I haven't bleached it in a fair while. This smells amazing and I know seaweed is important in loads of 'condition improving' hair products so fingers crossed this works!
£4.95
American Cream Conditioner 250g //
this smells so yummy! A combination of orange, vanilla and strawberry that will have me smelling my hair all day (er, if it would reach to my nose!). I use very little conditioner because my hair is so short so this will last me an absolute age, I'm hoping.
£8.50
Dirty Springwash Shower Gel 250g //
shower gel is an essential for me; I'm really not a bath person so having something great-smelling for the shower is perfect. This Dirty shower gel is the best-smelling thing ever with a spearmint and menthol smell which are my two favourite scents. I hope the smell lasts all day.
£8.50
Dirty Solid Perfume //
my first ever re-purchase from Lush! I absolutely adore this scent and I completely used up my last stick in a little over six months.
£4.50
Bubblegum Lip Scrub //
nom nom nom. I'm going to have to restrain myself from eating this stuff by the potful, it's delicious. I've only used it a couple times and already my lips feel really soft and smooth. Around my cupid's bow I particularly have trouble with dryness due to my eczema but this seems to really help.
£4.95