Swedish Hasbeens
is a company many know for their brief fame when the 70's wood soled sandal came back into fashion; they produce expensive but high quality pieces and I for one love the variety of nude and primary colours their shoes come in.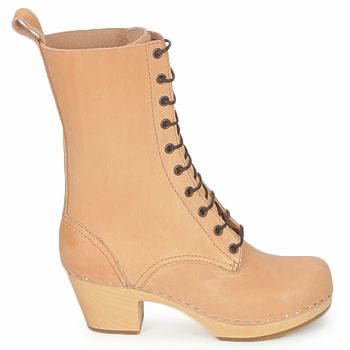 These particular
boots
caught my eye as something a little different from the rest of their range; sort of the winter version of their sandals. What I think I like the most about them is the continuation of the sole from other designs, there's something super 70s about the shape and curve of the heel as well as the height.
Personally I feel that these
shoes
would go with a lot of outfits currently in the high street, and 70s revival (altered to be skimpier and more high fashion, of course) has been big for a while with tie-dye and crochet making a comeback. These boots are just the right side of modern that they could also work with a simple winter outfit too and would make a lovely contrast against black skinnies or leggings.