Rocket Dog
is one of those brands I can remember coveting as an early teen; there were a few shops in the shopping centre that we would visit in Bristol that stocked them and I used to love looking through them whilst my mum would go shoe shopping - I can remember she was a fan of them too and I got these hand-me-down boots (similar to uggs but before they were cool!) that I wore until they fell apart.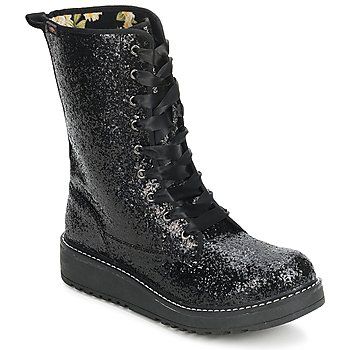 These
boots
caught my eye because, well,
sparkly!
I love a bit of sparkle in everyday and going-out outfits, they add something a little bit special and can be a bit of a feature. The fact they are black meants they go with practically everything too. On another note, these styles of boot are normally fairly wide so they would fit my feet even with thick socks, fingers crossed, and still be comfortable to walk in. The laces also allow a lot more flexibility in terms of calf size too.
In style, these
shoes
are quire reminiscent of the Triumph 1914 Docs with a more punky/modern twist, with a similar interior and the ribbon laces too. These look a fair bit less heavy and cumbersome though, because as much as I love my Triumphs a day of walking in them is clunky and slow after a while.
So, what do you guys think? What would you wear these with?