Who has been keeping up with all the awards shows this season? I know personally I'm not bothered about who wins or loses or who doesn't like who, but I do like a bit of a look at all the pretty frocks! One thing I've never really considered is men's fashion on the red carpet, though. Guest blogger Charlotte Rivington of Start London has written this article for me on the subject. Visit for more information on the latest styles of men's online fashion boutiques www.start-london.com.
We may be guilty of disregarding the Golden Globes in preference of its more sophisticated, all-round more glamorous older sibling, the Oscars, but style at this year's Golden Globe Awards meant that the ceremony could no longer be brushed under the Oscars' red carpet. Here, the variety of suits up for scrutiny taught us one very valuable lesson: stray from classic black tie at your peril. Men may yearn to stand out from the litany of their penguin suit-wearing fellow nominees, but the options to which they seem to default, black on black or a white dinner jacket, are the makings of a fashion disaster. Below, we dissect the pieces that made some of the best and worst-dressed men at the Golden Globes 2013.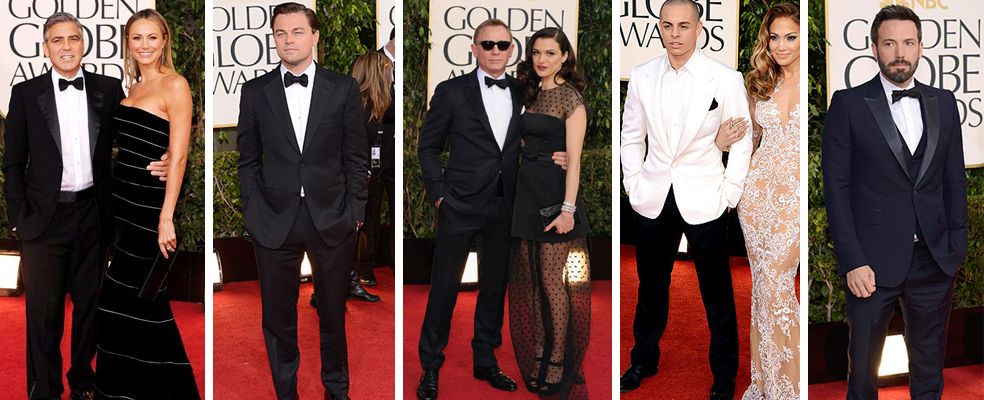 Bow Ties
The beauty of the bow tie lies in its ability to add a level of personality to suits, without compromising on formality. It always verges on looking disheveled, creating an irreverently pristine look. The award for best bow tie at the Golden Globes has to go to Ben Affleck, who also picked up the gong for Director and Drama Picture for Argo. Unlike Affleck, Bradley Cooper didn't master the proportions of suit and tie. Though the powerful lapels of his Tom Ford suit earn his serious points, Cooper's bow tie needed to be a bit wider to compete. Breaking Bad's Aaron Paul simply got it all wrong with his minuscule bow tie.
Slim Fit
A slim fitting suit offers an instant hit of modern, cutting-edge style. Parks and Recreation's Aziz Ansari wore a one-button, peak lapel tux that was just a fraction slimmer and shorter, thankfully steering well clear of the hideously skinny rock-star look. According to Ansari, his suit was by Kevin Dior Homme, Christian's fun, younger brother... Head over to Shoreditch Luxury brand Mr. Start for the epitome of architectural, slim fit suiting. Slim fit similarly applies to ties. Robert Pattinson erred on the right side of slim caution with his tie, creating an effortlessly modern take on tailoring.
Sunglasses
À la Daniel Craig. Only those with a certified license to thrill like James Bond can accessorise their suits with a pair of shades. And even Daniel Craig only just gets away with it, helped in a big way by the stunning Rachel Weisz on his arm.
Beards
Guys of Shoreditch rejoice. The top accessory for men on the red carpet was facial hair, proving that being hirsute is slick. The best beards were worn by Hugh Jackman/Jean Valjean, Homeland's Mandy Patinkin and Bill Murray, who added a tartan wrap tie to the look that perfectly complemented his silver facial hair.
Classic Black Tie
The pictures of Leonardo Dicaprio, George Clooney (though, he could have buttoned his jacket up) and Damian Lewis speak for themselves. Classic black tie is always best. And, if these photos do not convince you, then those of Quentin Tarantino, Jeremy Irons and Casper Smart should highlight the fashion perils of going against black tie. Not even Jennifer Lopez in her body-baring cream lace creation can save Casper Smart from his ivory monstrosity.