After receiving a brilliant response to my initial hesitant
Feeling Lighter
post about my forays into weight loss, not to mention some wonderfully supportive comments over on my
instagram
, I thought that an update might be in order! If you aren't aware, I've been on a bit of a weight loss journey since October last year when I started feeling unhappy with the way I looked and felt within myself. I'm super for
body positivity at any shape and size
but as a couple of you pointed out on my last post, it's my body to do what I want with and it's my life to live after all :) I'm using MyFitnessPal to track calories so feel
free to add me on there
if you're using the app or site.
In the first update, I'd lost a total of 36 pounds, back in February. Now I'm getting a bit closer to my goal weight it's slowing down a tiny bit which I find quite frustrating! I've tried all sorts of techniques such as increasing or decreasing my calories and I think the only way to do it is to be patient and the scales will eventually start moving again. Since February I've lost another 11 pounds, bringing my current total to 47 pounds. I'm excited to hit the '50' mark and I'm also very proud of achieving my personal goal of being under 200lb, for the first time in years and years! I now weigh 198lb which means I'm only 23 away from my initial goal. My friends, family and boyfriend have all been super supportive which I think is making all the difference.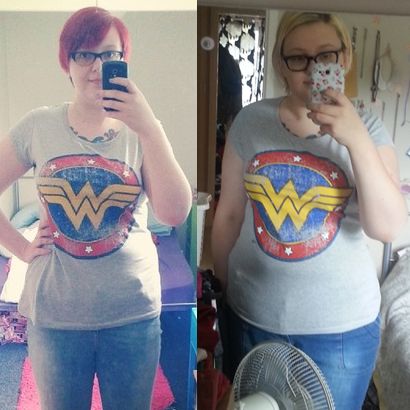 200lb vs 245lb - big difference in my opinion!